Deer Farming
Deer Farming –Deer are Ruminants that have several stomachs that are designed to be able to digest grasses and green leafy forages. Deer on Deer Ranches Graze and eat pasture just like other farm animals. Pastures that are naturally or have been seeded to provide Grasses tasty and are Nutritious to deer. In winter Hay is Provided
Deer also like some grasses better than others. At Night you can see deer mingling with other grazing livestock. Cattle and Sheep and Horses are eating the same items. Deer eat things that grow naturally. But when you move into the Realm of Deer Farms and Ranches you begin to look at what is best and not just what is available Grasses should be not More than 9% of their diets.
Some of the Grasses deer Love are the following
Rescue Grass
Winter Grass
Witch Grasses
Ryes
Oats
Wheat
Deer Grass
Clover
alfalfa
Deer Feed – Recipes
Check Out Amazons Educational Books on Whitetail Deer
We looked up several Deer Farmers what they were feeding their Herds. We found these and they were feeding approximately 5 – 8lbs per 100 lb weight for their Deer in Supplemental Feed Recipe 1 – Feeding 80 Deer
600 shelled corn
300 oats
400 38% protein pellet
160lb molasses
50 sunflower seeds
40 beet pulp
400 roasted soybeans
50 Herford mineral show pack pellet
Second recipe we found is here –
400 shelled corn
500 lb oats
550 lb 20% Antler Max protein pellet
150 lb molasses
100 lb sunflower seeds
100 lb beet pulp
600 lb roasted soybeans
Here are some Purchased feeds that they were also using instead of Mixing their own
How Many Deer Farms are in the United States
In the 2012 Census there was Recorded over 4,000 White Tail Deer Farms/ Ranches in the United States – Since then this has become a Blossoming Business increasing Every Year
Raising of deer is very Attractive as an Alternative Farming Options. It is an Attractive Business for some of the following advantages
Long Life and have high Baby Rate – 2 fawns are common
Deer are Very Hearty
Can be somewhat Domesticated
They Tolerate Hot summers and Cold Winter easily
They can easily live on Marginal farm Lands and Pasteurs and forest
They Have Multiple Revenue Sources
Meat
Antlers
Urine
Resources Needed for Deer Farming
For a Startup operation, some of the General Guidelines From Penn State are as Follows
10 Acres of Land as a Start
400 Man Hours labor Start-Up
$100,000 in Start-Up Capital.
States where Deer Farming is Legal
Let's look at some of the statewide Restrictions and laws that make Deer Farming Legal – some just have restrictions that allow it under certain Guidelines – These States Categorize Deer Farming as Livestock. Please check your states for details.
States that View Deer as Livestock – making it Legal
Delaware
Maine
Vermont
Pennsylvania
West Virginia
Ohio
Kentucky
Michigan
Wisconsin
Iowa
Minnesota
North Carolina
Florida
Louisana
Oklahoma
Nebraska
Colorado
Fallow Deer Farm
Fallow deer Farming is an Exotic Breed of Deer that began with Germans Farming them domestically. They produce a very tasty fine venison. The First Farm in the United States started in 1979. It has been a gourmet dish in Europe for years.
There have been large farms in New Zealand, Germany, Ireland, and Great Britan.
Pennsylvania has at least 30 Fallow Deer farms. ( Penn University 1992)
How much does it Cost to Buy a Whitetail Deer
White Tail Deer Farming Requires Does and Bucks Here are some general prices that you can encounter. In a commercial Deer farm you will want to do a Breeding Plan – The importance of Antlers, Horn and velvet Production.
Bred Doe – $2,500 – $ 4,000
Yearling Buck – $ 1,500
Larger Buck – $ 2,000 + depending on antler size – Up to $ 50,000 – for a trophy Sire
How much does a Deer Weigh
Average Whitetail Deer Weight is 150 lbs for a Buck
Average weight for Whitetail Deer is 100 lbs for a Doe
Many Times the Question Is asked How Much meat do I have Left – we found this Cart very useful from the Pennsylvania Game Commission.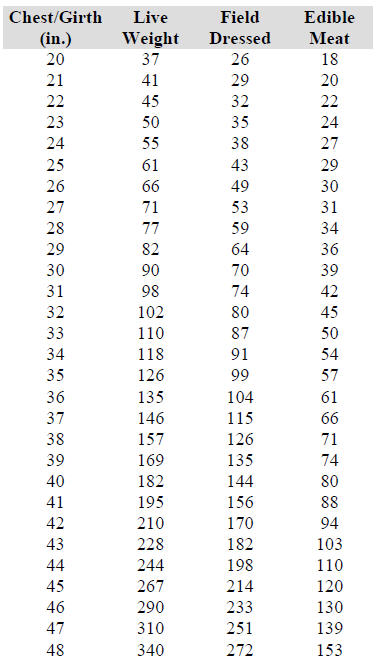 How much does a Mule Deer Weigh
Male Mule Deer – 120lbs – 330 lbs
Female – Doe – 95 lb – 200 lbs
Types of Deer for Deer Farming
Breed of Deer
Weight
Price of Venison
Whitetail
Buck - 150 lb
Doe - 100 lbs
$ 29.50
Mule
Buck - 150 - 300 lbs
Does - 95 - 200 lbs
$ 44.95
Red
Buck 350 - 530 lbs
Doe 260 - 370 lbs
$ 21.95
Fallow
Buck - 130 - 200 lbs
Does - 60 - 90lbs
$ 39.95
Axis
Bucks 150 - 250 lbs
Does 90 - 150 lbs
$ 43.95
Reindeer
Buck 350 - 400 lbs
Does - 180 - 260 lbs
$ 74.95
Pricing is Internet Pricing per LB / Some not available - Sold Out
How much does a Deer Hind Quarter Weigh
Field Dressed Buck Hind Quarter – 25 lb – 50 lb (Total Field Dressed Weight 100 – 200 lbs)
Field dressed Doe Hind Quarter – 20 lb – 30 lb ( Total Field Dressed Weight – 80 – 125 lbs)
The key to success in life is in using the right tools and knowing when to use them. That's why when running a deer farm, there are some tools you'll need, in order to make your deer farming experience worthwhile. So today, we are going to look at these deer farming supplies, and how they all help in making deer farming an outstanding experience. These are for Informational Info only – we are continuing to do research and will update as we learn more
If you own a deer farm, there are six important categories of supplies, you need to have and these include; a deer handler, a tunnel system, a mobile hauling and handling deer system, a scaling system, a fence system, and gates. Let's have a look at each and every one of them.
Deer Handler
First thing first, especially if you're about raising a whitetail deer on your farm, you need to understand that the most important tool is the deer handler. And as the name implies, a deer handler helps you handle a tough deer-like whitetail, properly. This seems to be one of the most automated systems available for Handling your Deer, from the chute to the table. It helps in the following areas.
Tagging Deer
Cutting Antlers
Hoof Trimming
Ultrasound Does
DNA Sampling
Medicine Applications
Tunnel Systems
As a deer farmer, you need to understand that a properly designed tunnel system, is just as effective as using a perfect deer chute. Thus, you need to choose tunnel systems that allow your deer to move freely through the tunnels, and into the Deer handler, effortlessly.
Features Of A Good Tunnel System
• The tunnel systems should be designed for both left or right-hand applications
• The tunnel system should be made up of a plethora of configurations, in order to suit your needs
• The funnel system should be made of metal and plastic so that it will last longer and make it easy to be sanitized.
• Every tunnel system box should come with rubber floor mats.
• It should have hardened acrylic enamel paint
• It should be soundproof on metal panels
• It should be the type with a molded plastic tunnel box caps to reduce noise and prevent the deer from getting injured.
• In the tunnel system, all the box caps should have a full-length cavity for lighting installation
• The tunnel system viewing ports should make viewing inside the box easy
• and lastly, your tunnel system should be designed for ease of assembly and transportation.  
Mobile Deer Handling and Hauling System
With a mobile deer handling and hauling system, you don't need a contractor to build your facility, when you can have a complete deer handling facility with everything you need to be delivered right to you. A perfect example is the Delclayna 24′ x 8′ mobile deer handling and hauling system, which is ideal for deer farmers looking to save money.
These mobile facilities offer every important feature needed, within a deer building at a small amount of money. Those who have deer at diverse farms can as well save by removing the expense of having to build a deer handling facility at each location. Plus, given that they are mobile, and without a fixed structure, these mobile systems will help save on a property tax increase.
In regards to flexibility, this mobile facility can either be constructed for a left or right-hand applications. Additionally, it comes complete with a handling facility, exterior panels, and interior lighting, that can all be powered using either 120 VAC or through a generator.
Scaling System
If you want to grow a deer farm, owning a scaling system such as the Ezi-Weigh 2 scale system is a must-have. With a good and easy to use scaling system, you'll be able to manage your deer farm appropriately. In other words, you'll never have to worry when administering vaccinations or drugs to your deer.
Plus, using a scale can also be valuable when trying to assess the size of deer you're planning of handling, using a deerhandler. As a deer farm owner, this can help you when selecting the cradle setting on the Deerhandler.
Features:
• It can be used with a 12V car battery or 230V AC adaptor
• It has an Auto Zero function, which ensures that any accumulated dirt is not weighed
• Through the hold function, you can see the retained displayed weight
Fence System
If you're planning on having a deer farm, you should certainly make plans for a fencing system. And once you're about setting up your fence system, making use of plastics on fence lines is an ideal way of controlling a deer's environments is because, when it's time to take hold of a deer in your farm, it's a lot easier to route it within a certain define premise, using your fencing system. Trust me, you can't afford to chase a deer all over an undefined territory.
How High Can a Deer Jump
A Deer can Jump 8′ High, but it has difficulty jumping high for any distance. Deer Fences at a 45 Degree angle make it very difficult for the Deer to get Over.
There are many styles of creative fencing that will contain deer. here is an article from the University of Vermont – On Effective Deer Fences – Gives many creative suggestions.
Livestock Fencing Height Tables
Type of Livestock
Height of Fence
Spacing of Post
Wood - $9.88
Steel - $3.58
Best types Fencing
Price Per Roll
Horse
54" x 60"
8'
Electric
Wire
Wood
$ 189.00
Cattle
48"
8'
Barbed
Woven
Electric
$ 259.00
Sheep
48"
8'
Electric
Woven
Barbed
$ 259.00
Buffalo
5' 3" - 5' 6"
8'
Barbed
Electric
$ 249.00
Deer
6' - 10'
8'
Woven Wire
$ 339.00
Alpaca
48"
8'
Woven
Electric
$ 259.00
Pig

2' - 3'
Buried in Ground
Pigs root
6' - 8' apart
Woven Wire
Barbed line on top and bottom
$ 259.00
Chicken
6'
8'
Galvanized Hardware Cloth
Chicken Wire

$ 57.99
Rabbit
3'
8'
Chicken Wire
Bury 1 foot
$ 29.00
Fence Height according to Animal Type
Cost of Fence per Foot 2020 Tractor Supply Pricing
Gates
Gates, such as the guillotine gates, work excellently in assisting the movement of deer in between pens, down into alleyways or within a given handling system. The best part about guillotine gates is that you can either chose to go for a pre-existing one or ask for a custom one to be made according to your size.
The below guillotine gates can be directly mounted right into a wall, or any other flat surface around the farm. Plus, these gates can be installed within a wire fence line, as long as it there is a space for it to be mounted on two posts.
Guillotine Gate – 30″ Wide x 46″ High Opening (Product # GG30 – $150 USD)
Guillotine Gate – 46″ Wide x 46″ High Opening (Product # GG46 – $165 USD)
The below Guillotine Gates are to be utilized when installing on a wire fence. Plus, they can be mounted anywhere in a fence line.
In Fence Guillotine Gate – 30″ Wide x 46″ High Opening (Product # IFGG30 – $185 USD)
In Fence Guillotine Gate – 46″ Wide x 46″ High Opening (Product # IFGG46 – $200 USD)
Ezi-Weigh 2 Digital Indicator with Loadbars
Deer Darting Gun
In Handling Deer they never quite become docile. You need to be able to handle them in various circustances. Many of the Deer Farmers we found were very pleased with this Dart Gun. Several others also liked this one called x cal. It allows tou to anestisize or deliver medication to your herd from a distance. Many of the Benefits are
Administer Medications from a Distance.
Very Accurate
Adjustable Pressure to adjust Velocity
Different Size Injection darts